Multi-Day Heat Wave to Bring Excessive Heat
Posted at 11:55 a.m.
The National Weather Service is forecasting a multiple day heat wave Friday, July 22 through Monday, July 25. You should expect excessive heat with temperatures in the upper 90s with heat indices at or above 105°F (Fahrenheit). The hottest days appear to be Saturday, July 23 and Sunday, July 24 when heat indices could approach 110°F.
A heat dome will build over the region from the Midwest and cause temperatures to soar into the upper 90s and may reach 100°F. This, when combined with high humidity, will create dangerous heat indices exceeding 105°F.
Please use caution this weekend and remember these heat safety tips:
Never leave children or pets alone in a closed vehicle.
Drink plenty of fluids: Drink two to four glasses of cool fluids each hour.

Your body needs water to keep cool. Drink water even if you don't feel thirsty.
Do not drink caffeinated or alcoholic beverages because they dehydrate the body.

Keep cool indoors: If you can, stay in an air-conditioned area.

Ensure your home's cooling system is working properly before it is truly needed.
Resting for just two hours in air conditioning can significantly reduce heat-related illnesses.
Consider spending the warmest part of the day in public buildings such as libraries, schools, movie theaters, shopping malls and other community facilities, including the county's

cooling centers

.
Electric fans may provide comfort, but with temperatures in the 90s, fans will not prevent heat-related illness.

Avoid strenuous physical activities or reschedule outdoor activities for the coolest part of the day, usually the early morning. Limit physical activity until your body adjusts to the heat.
Wear sunscreen to prevent sunburn. Sunburn makes it more difficult for your body to cool off.

Wear light-colored clothing, which helps reflect sunlight.

Eat light meals, avoiding high-protein foods because they increase metabolic heat.
Don't take salt tablets unless directed by a physician.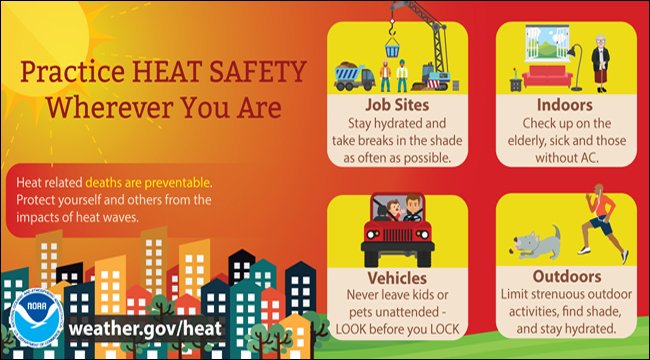 Learn more about extreme heat and how to stay safe, as well as precautions to take for the vulnerable and pets.