Dangerously Cold Temperatures and High Winds on the Way
Posted at 5:50 p.m.
Love is in the air, but as we posted on our Facebook page earlier today, so is the potential for dangerous wind chills (-15 degrees), frostbite, high winds (40-60 mph), power outages and some snow beginning around 6 p.m. today through Sunday afternoon. (forecast)
If you must go outside this evening, please bundle up. Also, remember to bring in pets and secure outdoor items. Plan to check in on homebound neighbors/friends too.
If you see someone outside and unsheltered, call 703-691-2131.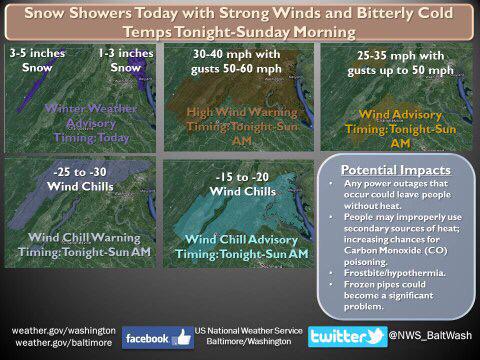 Possible Power Outages
With the high wind warning in effect tonight from 6 p.m. until 2 p.m. tomorrow afternoon, residents are advised that downed trees and power lines may result in power outages. Minor structural damage is possible and driving high profile vehicles in these conditions will be dangerous.
In case you lose electricity, be ready to report power outages.
With the potential for power outages, also be sure to charge your electronic devices — think your cellphone.
We'll post additional information here as well as on our Facebook and Twitter pages. Stay connected and informed — and be sure to share with friends and family.